Television has always been referred to as our best friend. And during the ongoing pandemic, we cannot get enough of it. It has certainly been a good way to pass our time sitting at home and a good supporter for most of us while we are alone. In such a scenario, it has played a massive role in our life to keep us entertained. That is why various daily soaps keep introducing something entertaining and have kept us all continuously engaged with their content and characters. There are a lot of daily soaps which have not only been entertaining us but also made a mark on our minds in various ways.
"Taarak Mehta Ka Ooltah Chashmah" is one of the examples of the most loved TV series. It is considered one of the longest-running and most famous sitcoms that have been running since 2008. And, Jethalal Champaklal Gada from "Taarak Mehta Ka Ooltah Chashmah" is sure fans favorite today. However, for Dilip Joshi, playing Jethalal Champaklal Gada's character in the series, it was a long journey until he attained this popularity. Since the 1980s, he is playing the supporting character in different movies. He got his due after he switched to the small screen after a decade.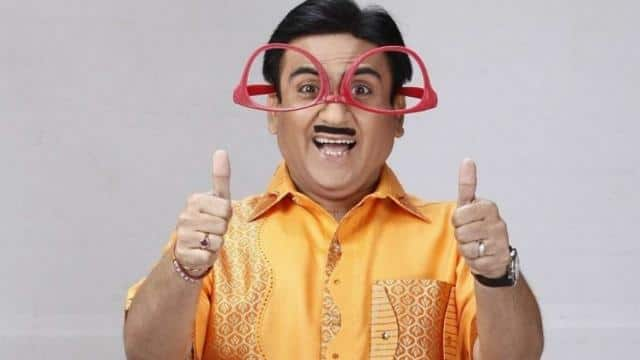 Dilip's journey on TV includes Sridevi starrer Malini Iyer, Hum Sab Baraati, Kora Kagaz, Daal Mein Kala, and many more. However, it was only after "Taarak Mehta Ka Ooltah Chashmah", that the actor became a household name. This series was first premiered in 2008 on Sony SAB. But we aren't here to talk about the character he's played on television. Today we will revisit his stint in Bollywood. The lesser-known roles he portrayed in films cast some of the most popular B-town actors such as Shah Rukh Khan, Salman Khan, Priyanka Chopra, and Akshay Kumar.
Dilip Joshi has a huge name in Gujarati theatre and cinema too. So, we have recollected some of the most popular movies in which the actor was a part. Let's have a look:
1. Maine Pyar Kiya – Ramu
Joshi's acting debut was a small role in Bhagyashree and Salman Khan starrer Maine Pyar Kiya. He played the character of the domestic help, Ramu in the Rajshri Productions film. He was even seen impressing Huma Khan as Gulabiya, the milk-woman in the movie. He was also a part of the song of the movie "Aaya Mausam Dosti Ka".
2. Phir Bhi Dil Hai Hindustani – Sapney
Phir Bhi Dil Hai Hindustani was released in 2000 starring Shah Rukh Khan and Juhi Chawla. His character was a small-time gangster named Sapney. Most of his portions were with Johny Lever's Pappu Junior. Joshi was totally into his part despite only a few lines of dialogue or even if he is just standing in the background.
3. Hum Aapke Hain Koun – Bhola Prasad
Are you also wondering about his Shakuntala? This is another film starring Salman Khan and Madhuri Dixit, Hum Aapke Hain Koun. Among numerous characters in the film, one character stuck with the audience because of his innocent personality. His character, Bhola Prasad was so innocent that he was unable to understand his feelings towards Rita (Sahila Chadha), Salman Khan's friend. However, Rita became 'Shakuntala' for him after he knew about his feelings and he got teleported to a period drama where he thinks of himself as King Dushyant. His part was all about fun in the movie.
4. Khiladi 420 – Arora
Khiladi 420 is an action thriller film released in 2000. This movie starred Akshay Kumar and Mahima Chaudary in the lead roles. The actor Dilip Joshi played the supporting role of Arora in the film among them.
5. Humraaz – Gauri Shankar
Humraaz is one of the most well-defined romantic thriller films. It starred the actors Amisha Patel, Bobby Deol, and Akshaye Khanna in the lead roles. His character, Gauri Shankar worked at the office of Raj Singhania (Bobby Deol). In the movie, he was a worshiper of Lord Shiva. Even his look and dialogues revolved around his devotion.
6. Dil Hai Tumhaara – Factory CEO
Dil Hai Tumhaara is a Preity Zinta and Arjun Rampal film. Joshi played the CEO of the factory in the movie. He keeps the identity of Rampal intact in the factory when Rampal arrives to inspect the workplace without anyone's knowledge.
7. What's Your Raashee? – Jitubhai
The film What's Your Raashee stars, Priyanka Chopra, alongside actor Harman Baweja. Dilip Joshi played a major role as Jitubhai in the film. He was the elder brother of Harman in the film. The whole plot of the movie is based on Jitubhai who owed a debt of 25 million due to gambling. If these things wouldn't have happened, then there would have been no movie.
8. One 2 Ka 4 – Champak
The movie One 2 Ka 4 stars Shah Rukh Khan and Juhi Chawla. Joshi played Champak in this movie who is the caretaker of Jackie Shroff's four kids. However, he gets killed later in the movie.
9. Dhoondte Reh Jaaoge – Mama Nautanki
This was one of the last appearances of Joshi in Bollywood. After that, he switched to television for good. The movie starred Soha Ali Khan, Sonu Sood, Paresh Rawal, and Asrani. In this film, Joshi played a film director, Mama Nautanki with a south Indian twang.