FRIENDS was and always will be an irreplaceable part of our childhood, no matter what. Joey was relatable, and fans wanted to hug him. Ross was perhaps the guy whom everyone loved and were friends with but the moment he started talking about his interests! It's all gone. Monica was the glue of the group, and Chandler was undoubtedly the sarcasm king. Well, when it comes to Rachel, her transformation throughout the series is quite admirable. However, there is one character who stood out for all of us, Phoebe Buffay.
Phoebe was always the eccentric one of the group. Thanks to her determination and kindness, her friends still loved her and stuck with her. She had her own interpretation of the world and was unapologetically weird. No matter how quirky her reasons may have been, at times she was the only voice of reason in her friends' chaotic lives. Phoebe also dated quite a few men before she married Mike Hannigan. Here's a definitive ranking of Phoebe's 10 love interests from worst to best.
10. Robert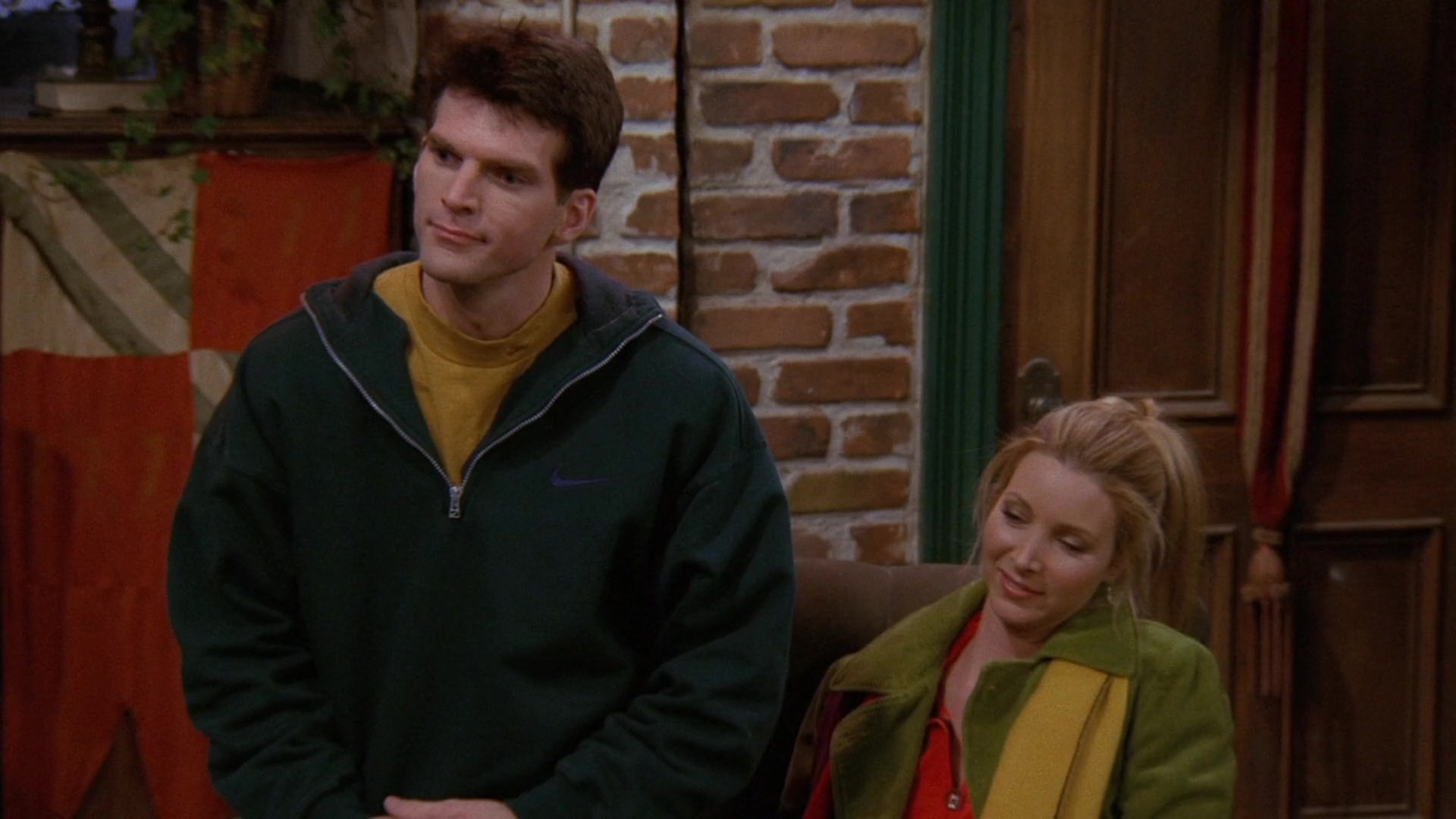 Robert had a bit of an underwear problem. Robert was a perfectly normal guy except for the fact that he showed a little too much of himself in his small baggy athletic shorts. Phoebe didn't notice until she invited him to Central Perk to meet her friends. While at the coffee house,  Joey and Chandler spotted it. Later, when Phoebe tried to change him by purchasing the spandex shorts, it was a sensitive subject for Robert and he didn't like it. Ultimately, Gunther was the only one who had the guts to tell him to "put it away". Eventually, Phoebe dumped him.
9. Eric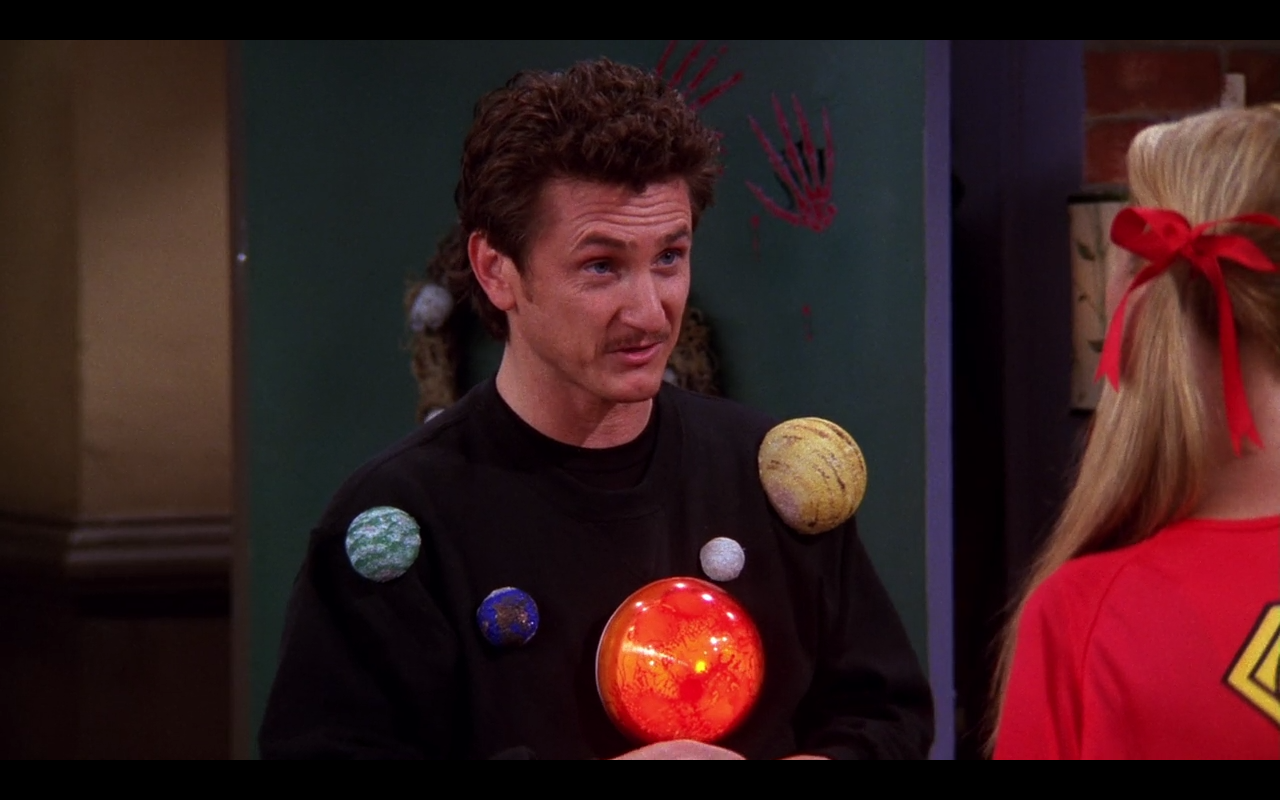 Eric was Phoebe's twin sister, Ursula's fiance. Eric's character was played by Oscar-winning actor, Sean Penn. Phoebe meets and gets to know Eric well when he attends a Halloween party hosted by Monica. Phoebe found out that Ursula told Eric all sorts of lies in order to be with him. She managed to tell the truth to Eric and as a result, he broke up with Ursula. He then engaged in a short-lived relationship with Phoebe. They ultimately realized that it would be weird to date each other and so ended things up.
8. Duncan Sullivan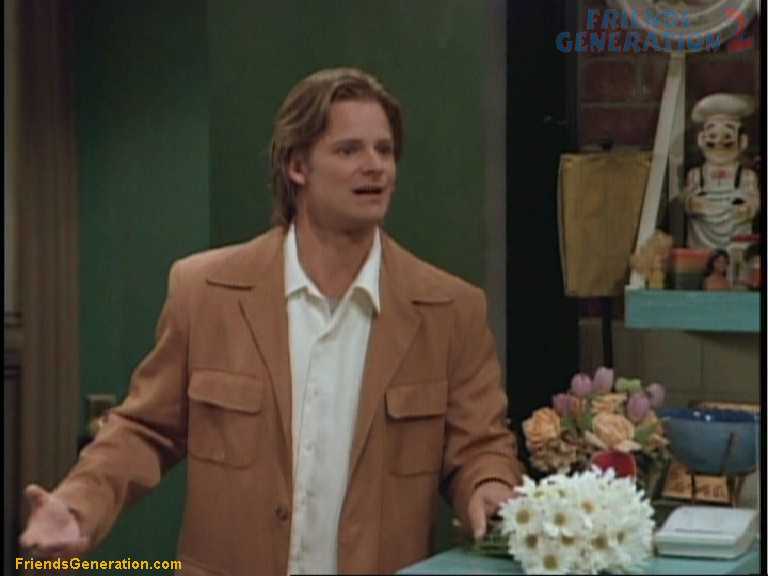 In season 2, viewers meet Duncan when we find out that Phoebe has been married the whole time. Phoebe agreed to marry this Canadian-born ice skater so he could avoid getting deported and obtain his green card. Since Phoebe presumed that he was gay, she never expressed her love towards him and he left to tour the world. However, unexpectedly he reappeared in Phoebe's life only to ask for a divorce. Phoebe was heartbroken all over again when he announces that he is not gay and is about to marry a girl. The two end on pretty good terms.
7. Sergei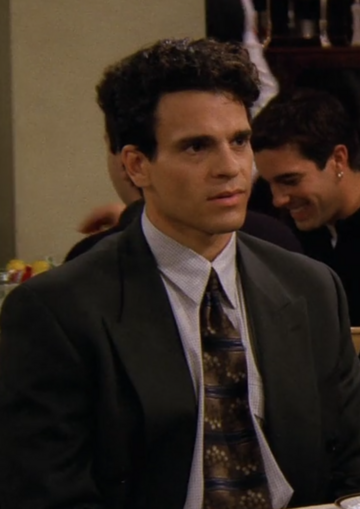 This relationship might have worked if he could have at least understood English. That is the reason why they had a translator following them around because Phoebe wasn't able to communicate directly with the handsome diplomat. It's safe to say that from the beginning their relationship was doomed. Phoebe and Sergei met when she was giving out free massages outside the U.N. Just to avoid the awkwardness on every date, Phoebe once took Monica to keep his translator engaged. Unfortunately, Monica and the translator hit it off leaving them alone. After that, all Phoebe and Sergei could say to one another was, "Plate."
6. Ryan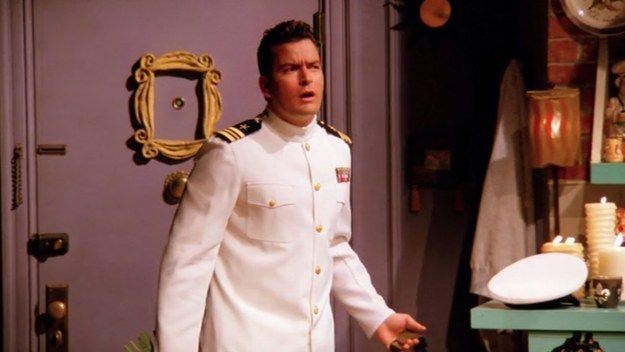 Ryan actually wasn't a bad guy but his with Phoebe was really bad. Phoebe used to date Ryan who was a Lieutenant Commander in the United States Navy. He spent the major part of his life underwater. Whenever he got time off, he visited Phoebe to pick up from where they had left off. He was Phoebe's "submarine guy". During season 2, unfortunately, when he comes for his visit she had chickenpox. He didn't let the illness get in the way of them seeing each other. And it was amusing to see how he got them too. Later, they spent their time scratching each other and they got better but just before he had to leave again.
5. Gary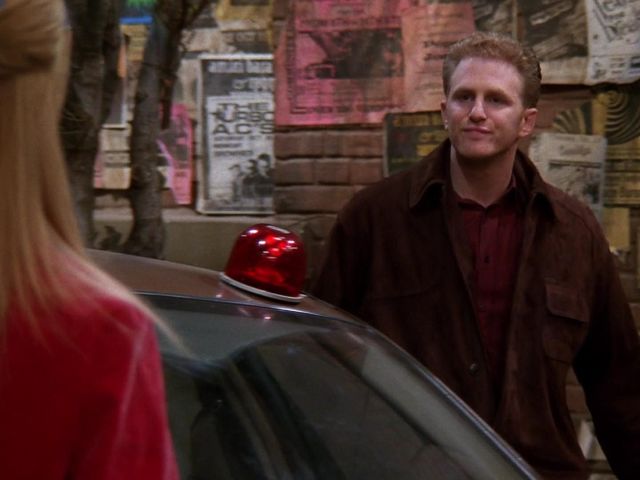 Gary was actually pretty perfect for Phoebe. She found Gary's badge and he later caught her using it. That is how Phoebe and Gary met! He was kind enough to not charge her for impersonating an officer. Or maybe the kind gesture came in because he wanted to ask her out. Initially, he seemed like a really sweet guy and the two had a lot of chemistry. They were so much into each other that she even moved in with him. Unfortunately, Gary shot a bird chirping outside the window while laying in bed one morning. That was definitely a deal-breaker for the animal-loving, vegetarian Phoebe. So, she broke up with him.
4. Rob Donnen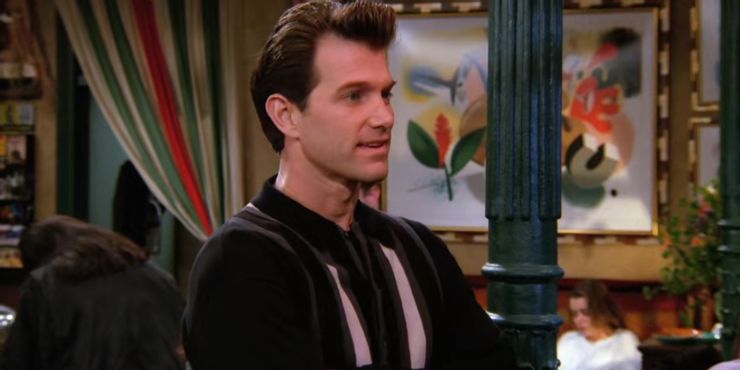 In season 2, Rob Donnen shows up as one of Phoebe's love interests. He was the one who scheduled Phoebe's performance at the children's library. The two of them were attracted to each other. They even shared a kiss after Phoebe admitted her nervousness to perform in front of the children. However, Rob quickly realized Phoebe's jingles are not kid-friendly and they called off their relationship. Unfortunately, Phoebe is never asked to come back and their relationship doesn't make it outside the library. But, as a couple, they would have been great together because they understood each other.
3. Vince/Jason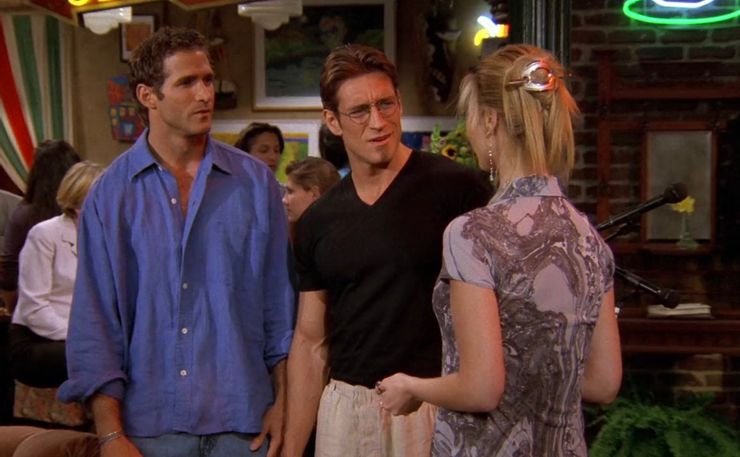 Do you remember the time when Phoebe was dating two men at a time? She started dating kindergarten teacher, Jason, and fireman Vince, together. Both of them were perfect in their own way. That is why she was having trouble choosing which one she wanted to actually date. However, they both ended up dumping her when she couldn't choose which one to be with. Phoebe learned real quick that she is not made for jiggling men. They were actually the perfect guys but she lost them both because of her mistake of dating them both at the same time.
2. David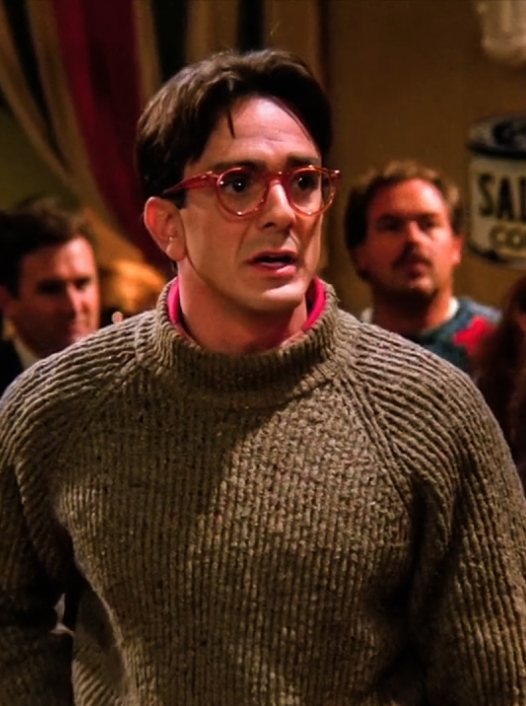 If their timing had been a little better, this relationship probably would have worked out. In season 2, Phoebe met David when she called him out for talking during her performance at Central Perk. He tells her how he was complimenting her while talking, and the two ended up dating each other. David is this sweet, really smart but shy scientist. Unfortunately, he's whisked off to Minsk just as their relationship was getting started, and by the time he came back, she's in a new relationship.
1. Mike Hannigan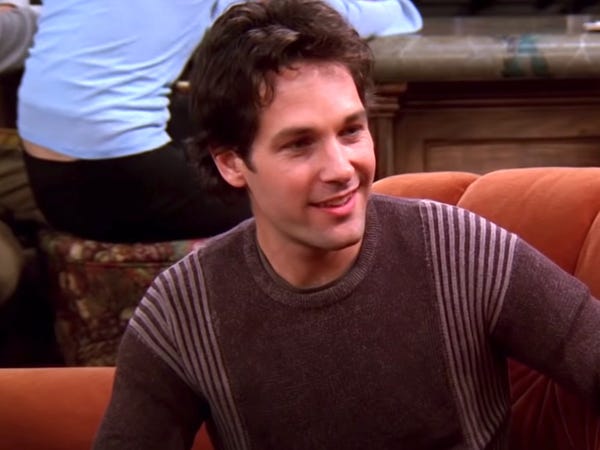 It's not surprising that Mike Hannigan, Phoebe's husband, lands in the number one spot on this list. His character is played by fan favorite, Paul Rudd. He is the one man who loves Phoebe for all her eccentric weirdness and never wishes to change her. The two got married outside Central Perk in a beautiful winter ceremony.