In television history, Ross and Rachel were in one of the most famous on-again-off-again relationships. In the iconic show FRIENDS, they weren't on a break, they were each other's lobsters, and the chemistry was undeniable between them. Many have speculated as to whether Ross and Rachel's chemistry on-screen ever spilled over off-screen over the years. However, David Schwimmer aka Ross Geller and Jennifer Aniston aka Rachel Green always denied it, until "FRIENDS: The Reunion" happened this year.
Hosted by James Corden, the highly-anticipated FRIENDS reunion happened earlier this year. While talking to Corden, Jennifer and David confessed that they had feelings for each other while filming the first few seasons of the show. Well, they confessed that while the show was on the air, they never crossed any boundaries and "channeled" their real-life feelings into their characters. Maybe that is why their first kiss on-screen was just amazing and full of emotions. Also, after their confession at the FRIENDS reunion, there have been a lot of rumors about them dating each other.
So, here we have established some reasons that why David Schwimmer and Jennifer Aniston's dating rumors totally make sense. Let's dig into it:
1. The One Where They Confessed About Their Feelings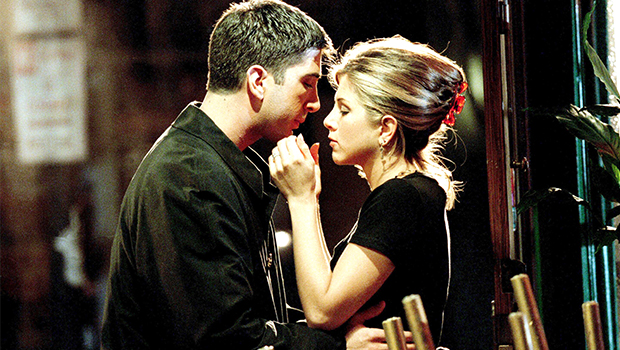 In the FRIENDS reunion that was shot in April and aired on HBO Max in May, Aniston and Schwimmer shared the never-before-publicly-revealed secret. They revealed that they'd have crushes on each other back in their FRIENDS days. However, they never crossed the line for the sake of the show and their friendship. Interestingly, they channeled all their emotions in their respective characters. While joking, they both agreed that the couple was on break on-screen. So if they really had such a feeling then why would you think they might not give it another shot now!
2. The One Where They Waited For Each Other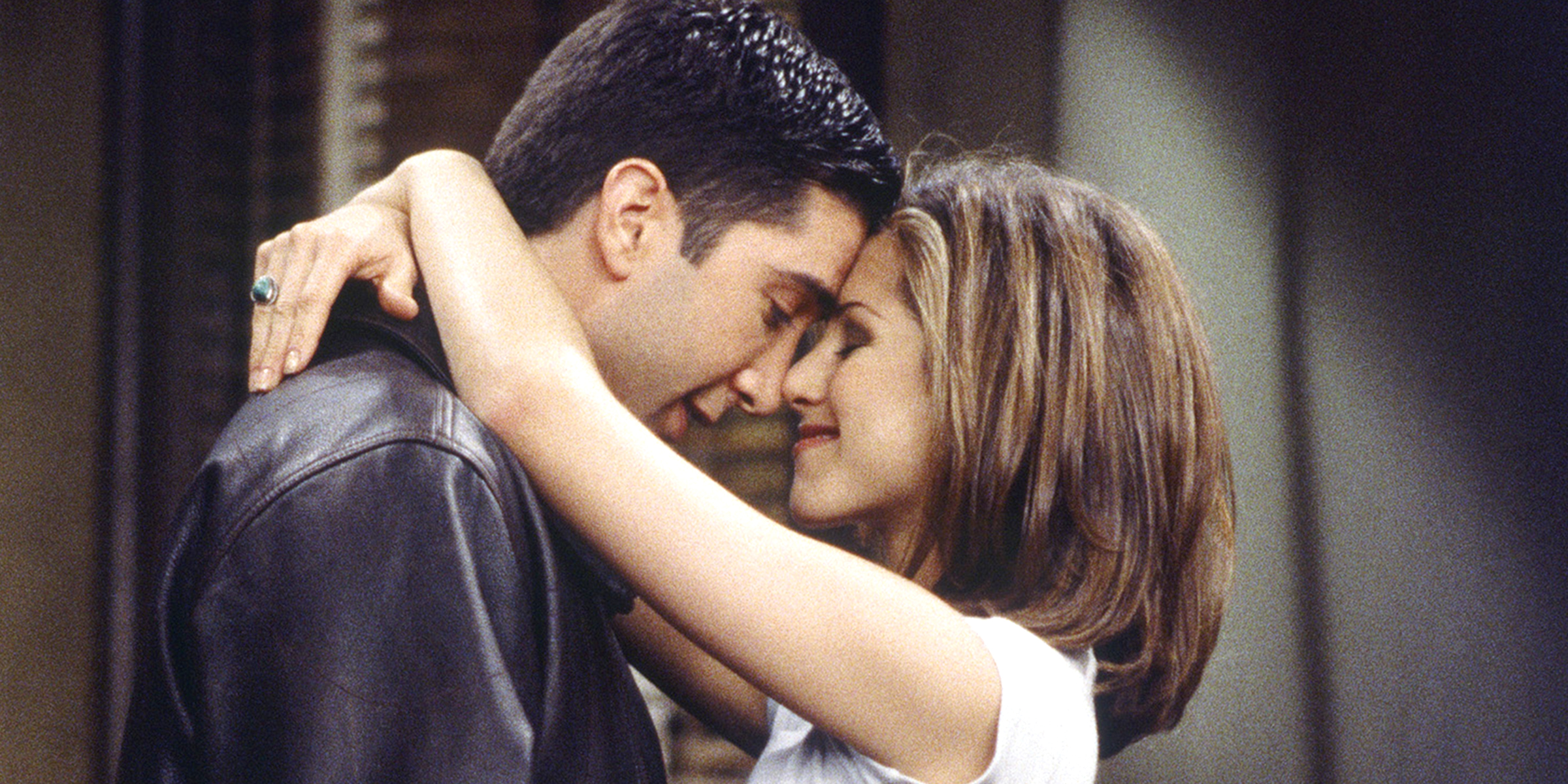 Even after having feelings for each other from the beginning, they always waited for their time to be together. But unfortunately, one of them was always dating when the other one was single. They occasionally crossed each other's paths but were never able to come together. Later, Aniston of course went on to marry Brad Pitt, and David's affection was lost in between. However, now when they do have a chance, they should surely be together. Also, the longer the wait, the more intense the love gets.
3. The One Where They Flirted With Each Other With T-shirts
Last week, as they promoted merchandise for the show, the pair seemingly flirted with each other online. David posed in a "lobsters" T-shirt in his snap and tagged Jennifer. It featured a silhouette print of their characters.
View this post on Instagram
Jennifer, in return, posted her photo in a cap in reference to their on-screen romance and captioned it, "For the record… we were SO not on a break". Was it a sign? Are they slowly and steadily letting us know about their new bond? It's naturally weird and scary for Hollywood stars to disclose their ongoing dates so it sounds logical if they just give away small hints for their fans. So do you smell anything of that sort here?
View this post on Instagram
4. The One Where Fans Always Loved Them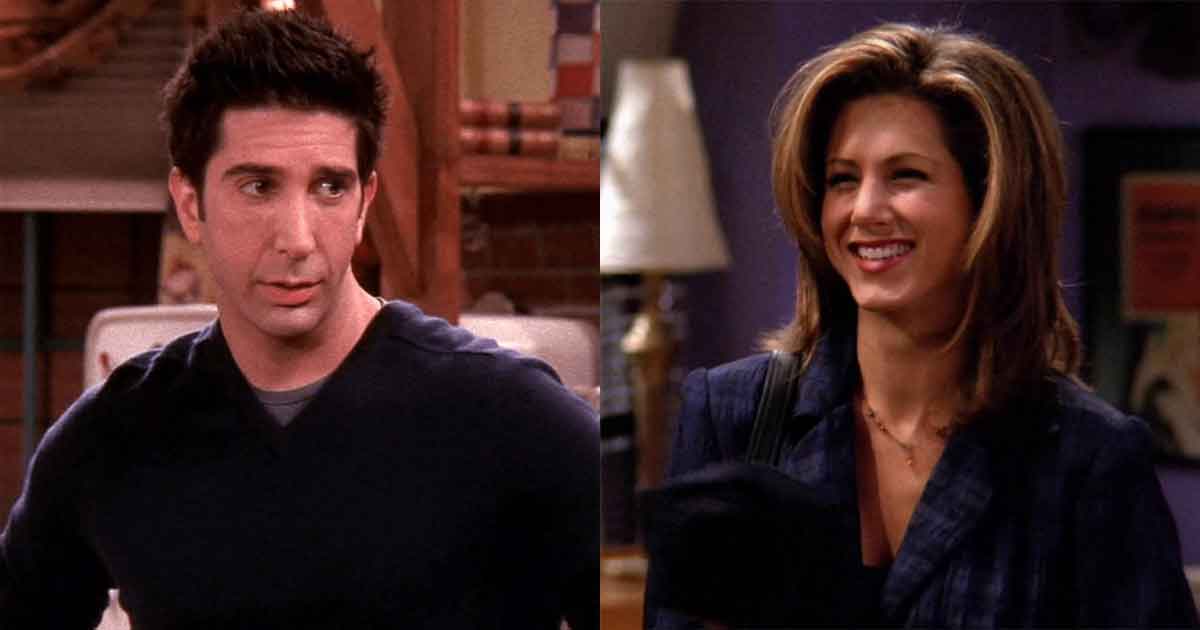 Fans have always loved the duo of Jennifer and David. Whether they were playing Ross and Rachel in the show, or whether they were busy having some fun off-screen as Jennifer and David, fans always supported them and wanted them to be together forever. When Rachel breaks up with Ross in the show, it broke the hearts of many throughout the globe. And fans wished to see them together as soon as possible.
Fans come across many on-screen couples but this couple, in particular, is special because fans are rooted for them quite deeply. They support them so much because they see them click and last long forever. So when there're so many people praying for this to happen, it's worth giving a try and maybe the two might have also felt that compatibility in themselves.
5. They Have Been Together For A Long Time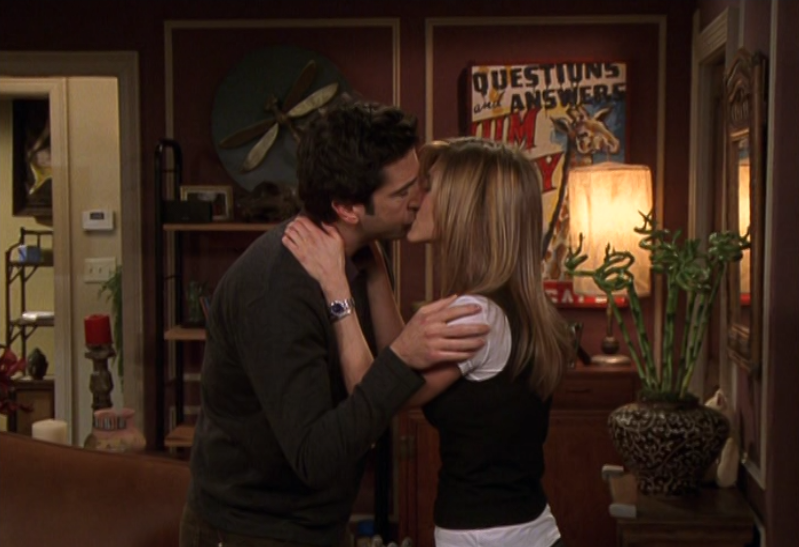 The iconic show FRIENDS runs for 10 long years, starting from 1994. Since then, the two of them have been together. Apart from their on-screen on-again and off-again relationship, they shared amazing off-screen chemistry as well. They confessed their feelings towards each other in the reunion and after seeing their pictures from the reunion, it surely shows that they still had something left for each other. Since they have known each other for so long, and there was hardly any downtime in their relation, it is obvious they must have a great understanding and amazing friendship between them. So, they should definitely explore that feeling and be with each other.
6. The One Where They Spend Time At Jennifer's Place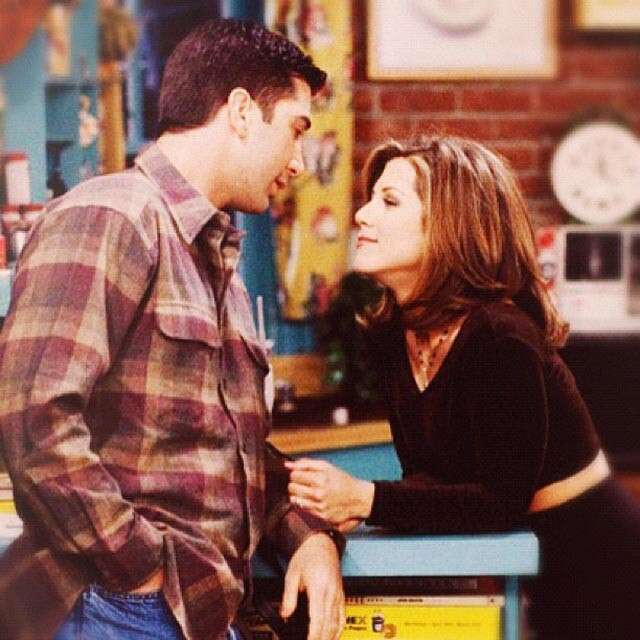 Recently, rumor has it that David and Jennifer have been at Jennifer's place where they were cooking meals and spending quality time with each other. A source said to a UK publication, "After the reunion, it became clear that reminiscing over the past had stirred up feelings for both of them and that chemistry they'd always had to bury was still there." The source further revealed, " They've been spending time at Jen's home, where she's cooked dinners in the evenings, and have enjoyed quality time together, chatting and laughing."
They continued, "They were also spotted drinking wine, deep in conversation, as they walked around one of Jen's favorite vineyards in Santa Barbara, where it was clear there was lots of chemistry between them." They also revealed that David recently flew to Los Angeles to meet Jennifer. Perhaps, after the reunion, their old feelings towards each other have been reignited.
7. The One With Cute Moments From The Past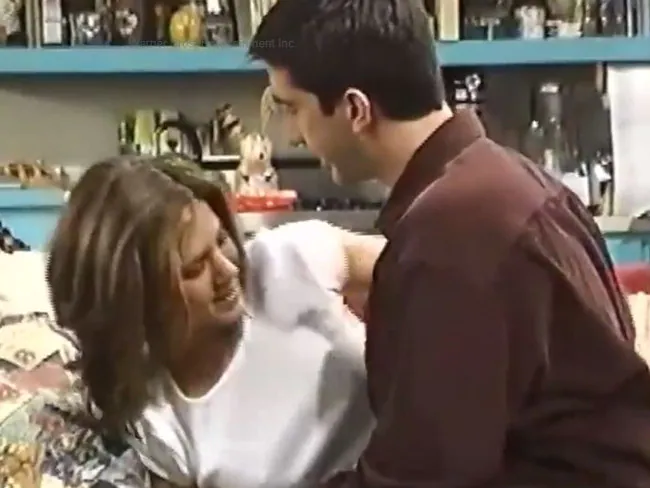 After their big revelation in the FRIENDS reunion, there were some clips shown in the special where they were found cuddling on the couch between the shots or taking a nap together. David admitted in the reunion that he and Jennifer shared some intimate moments while shooting for the show. He recalled, "I thought back on the very first year or two, you know, when we had breaks from rehearsal, like, there were moments where we would cuddle on the couch." "Or we would spoon and fall asleep on the couch" Jennifer continued by sharing. Isn't it adorable?
8. The One Where Jennifer Wanted To Have Baby With David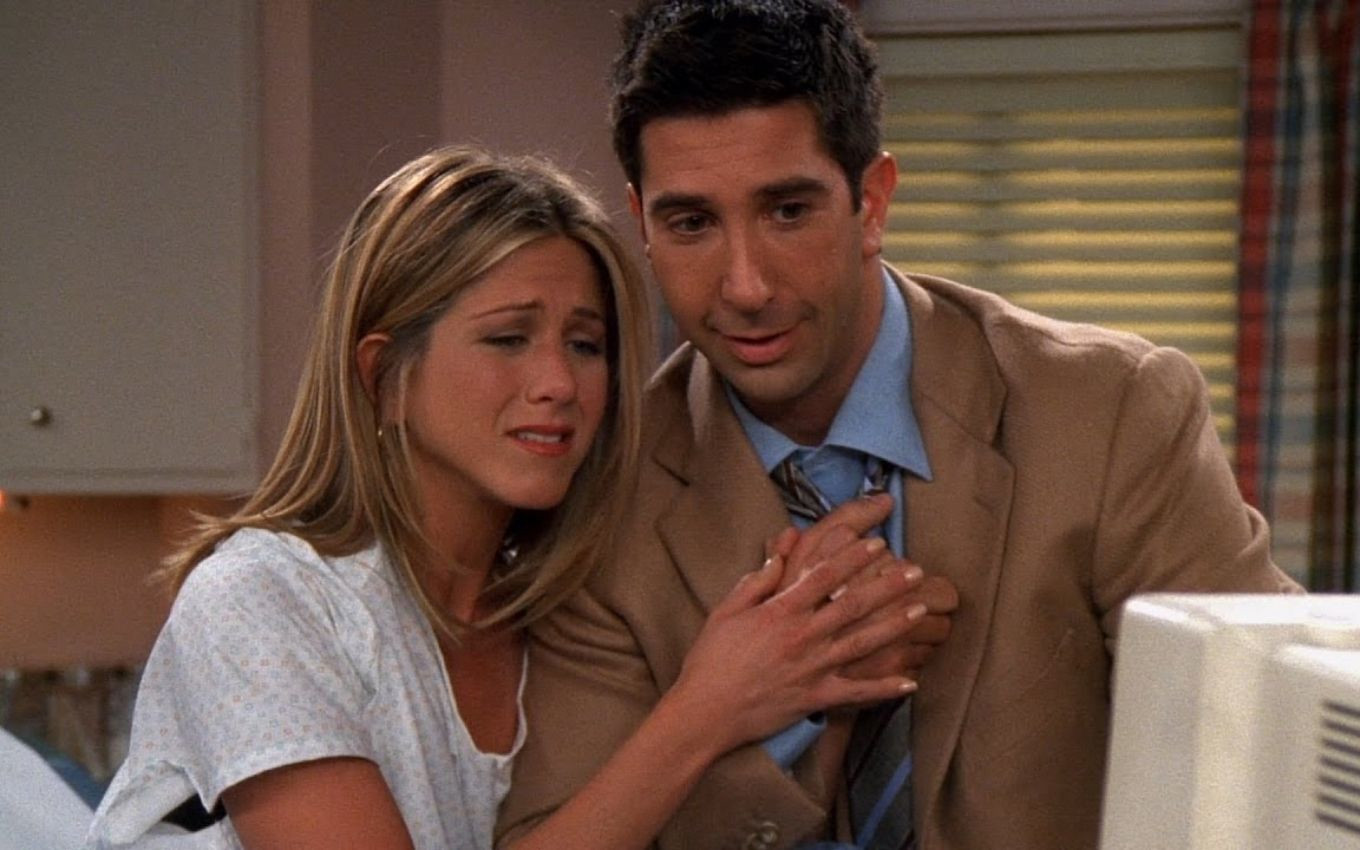 While filming for the movie "The Switch", Jennifer thought that she found the perfect real-life donor in the form of her former FRIENDS co-star, David Schwimmer. According to The National Enquirer, an insider told, "Jen's been telling everyone on the set of this film (The Switch) that the film should be promoted as the story of her life." The insider continued, "But the real shocker is that she says her top candidate for artificial insemination is David Schwimmer!" Well, it certainly makes sense about their dating rumors.
9. The One Where They Made A Pact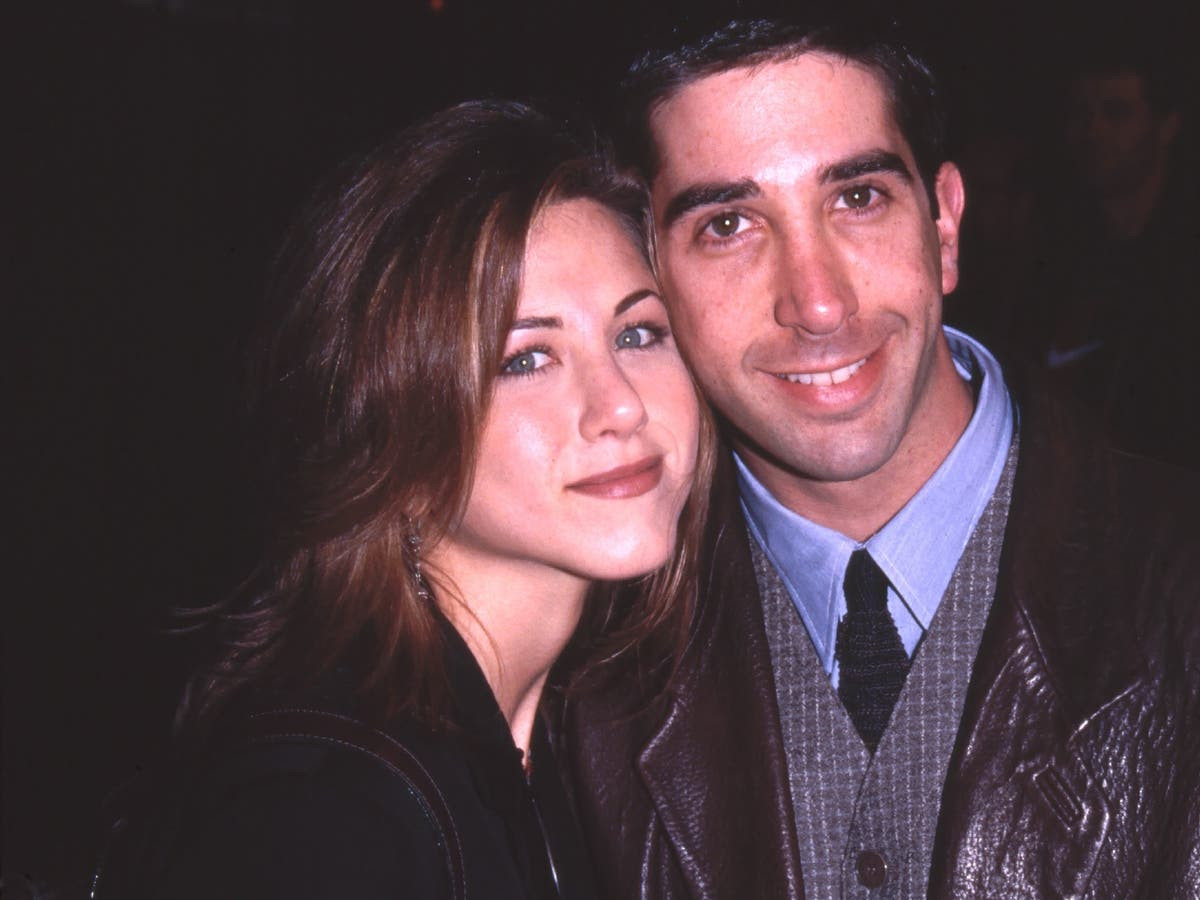 Remember, Ross and Rachel made a pact in the show that if they were still single by the age of 40, they will get married and start a family? Well, little did we know that they have the same kind of pact in real life as well. An insider told the tabloid, "Jen said when she and David were still starring on Friends, they made a pact that if they were both singles at 40, they'd elope and start a family together!" It can be a rumor but it can be real too. We certainly hope that this is true and they soon execute it. Maybe it's time to take all pacts seriously.
10. The One With The Last Hug After The FRIENDS Reunion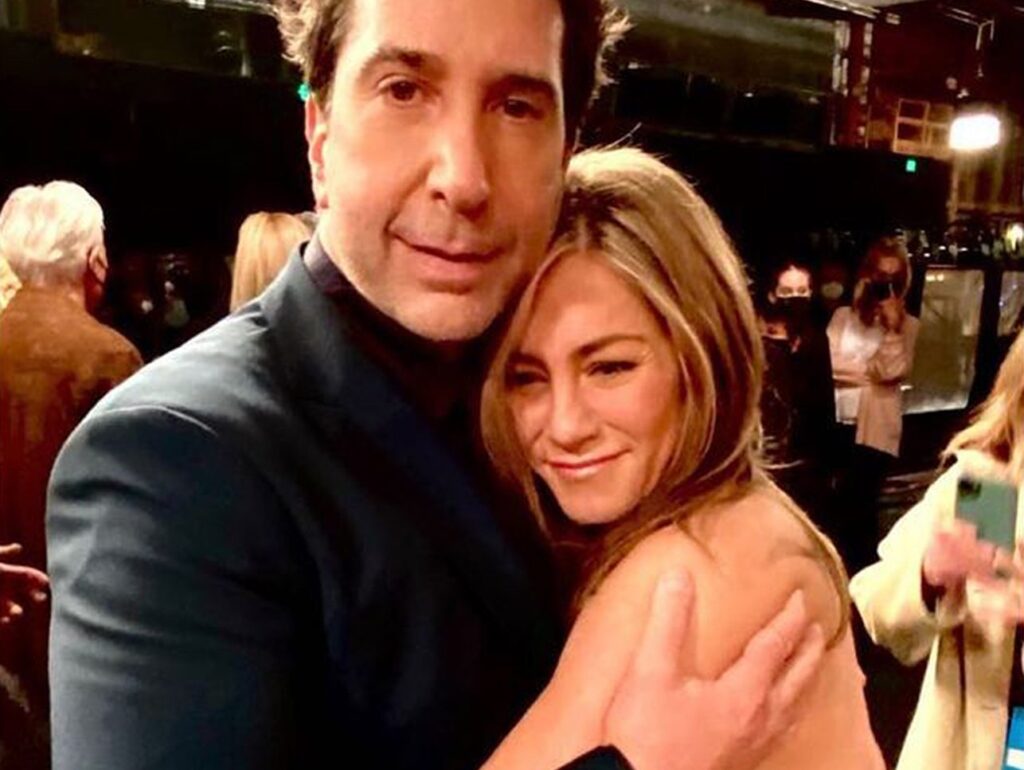 Later after the FRIENDS reunion, David shared a sweet moment with Jennifer Aniston on his Instagram while filming the FRIENDS reunion special. In the picture, Jennifer and David can be seen hugging. He captioned the picture of him and Aniston embracing, "After a very long day, the last hug of the night." He also shared photos of himself and his co-stars doing a huddle as well as pictures of them posing in the re-created FRIENDS set and many more. Unfortunately, the post has been deleted from his Instagram account but we still have that moment captured.