It's sometimes hard to think of something clever and eye-catching when choosing a Halloween costume or even decorating it. We often turn to pop culture for inspiration. That includes our favorite musicians, movies, and TV shows. And, when it comes to FRIENDS, the show comes with countless laugh-out-loud moments throughout 10 seasons. Not to mention, FRIENDS offers up cute Halloween costumes for couples as well as adorable best friend Halloween costumes.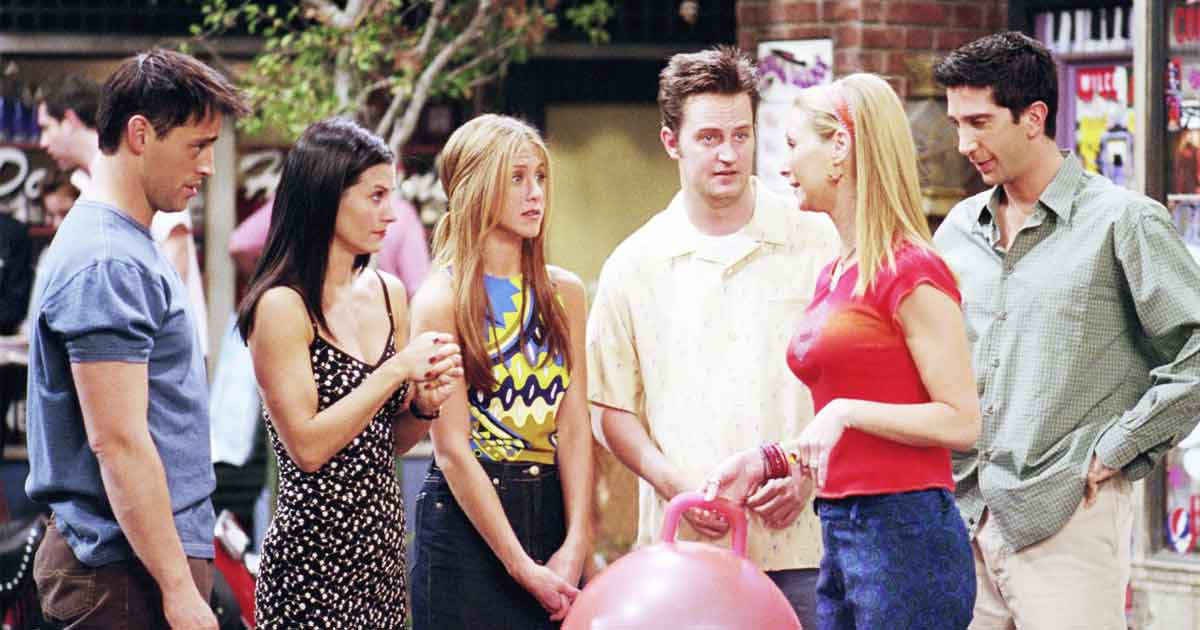 You can "pivot" from the one- or two-person ideas and roll solo with your own individual look. On the other hand, you can also have some fun group Halloween costume ideas by getting your pals together. Every FRIENDS character has its own signature style. For instance, you can build your own version of Space Doodies like Ross, or you can totally pull off "The One with All the Wedding Dresses" if you and your two BFFs have some old bridal gowns.
It's time to make sure you've secured your FRIENDS costume because Halloween is rapidly approaching. Scroll through to get the ideas for FRIENDS-style Halloween.
1) Ross's Spudnik Outfit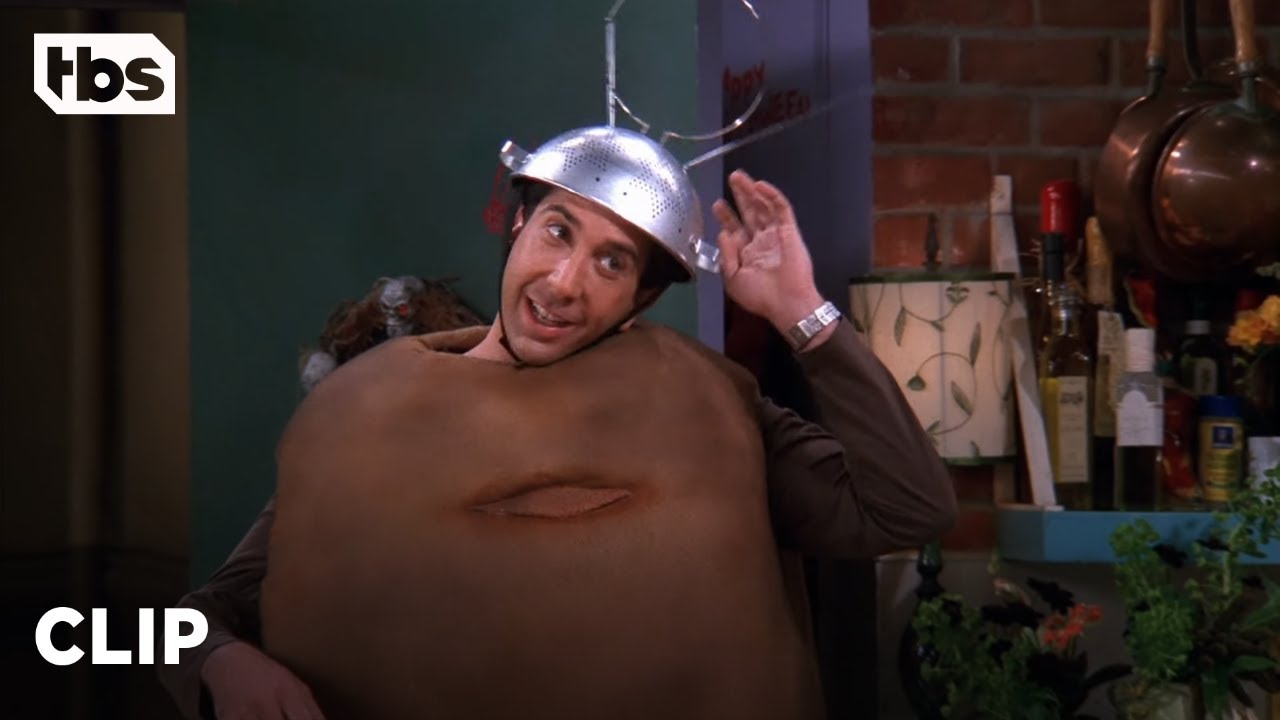 Basically, Ross dressed up as "Space Doody". However, hilariously, he defended himself a bit differently in the episode. Remember what he said to justify? Ross said, "Remember the Russian satellite, Sputnik? Well, I'm a potato or a…spud." He further continued explaining, "And these are my antennae. So Sputnik, becomes…Spud-nik. Spudnik!" You can surely make you Halloween special by wearing this costume.
2) Phoebe's Supergirl Costume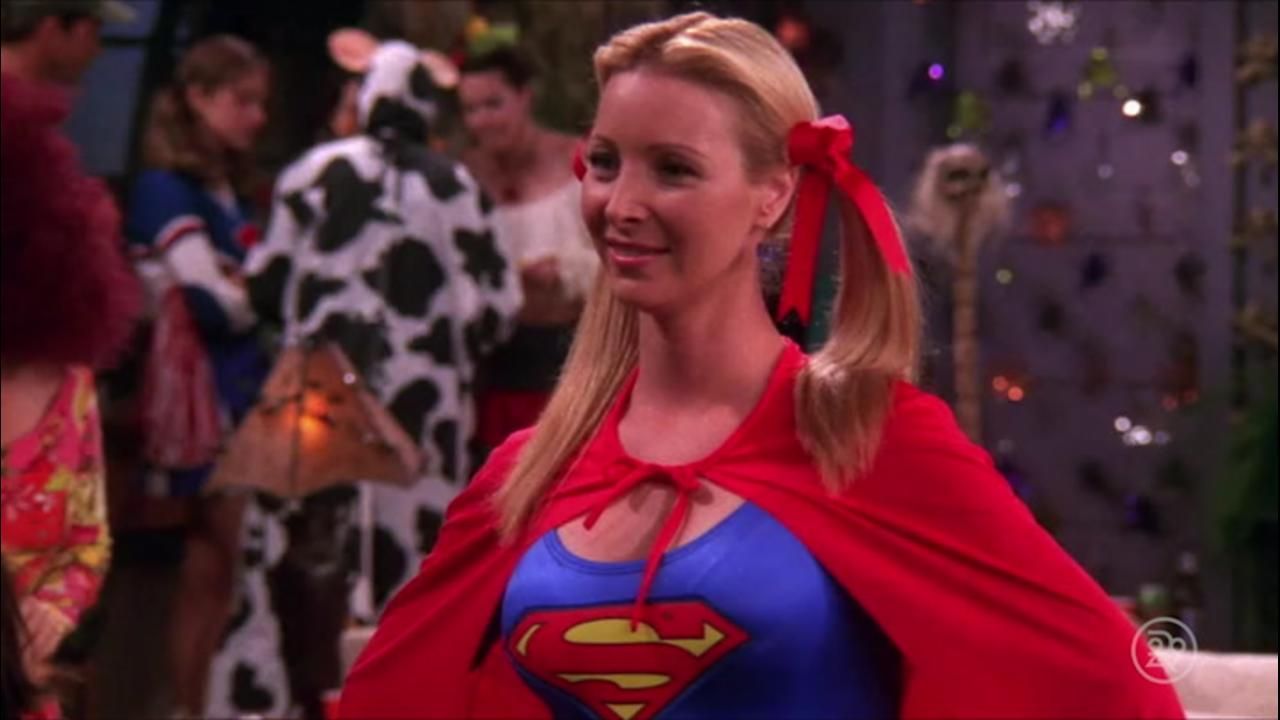 At FRIENDS Halloween party, Phoebe dressed up as a Supergirl. She was the most quirky and charming character in the show. Later in the episode, she was asked what she did for a living. Before putting her hands on her hips, she answered that she was a masseuse and jokingly added "by day." Undoubtedly, this would be the perfect costume for you if you love Phoebe.
3) Chandler's Pink Bunny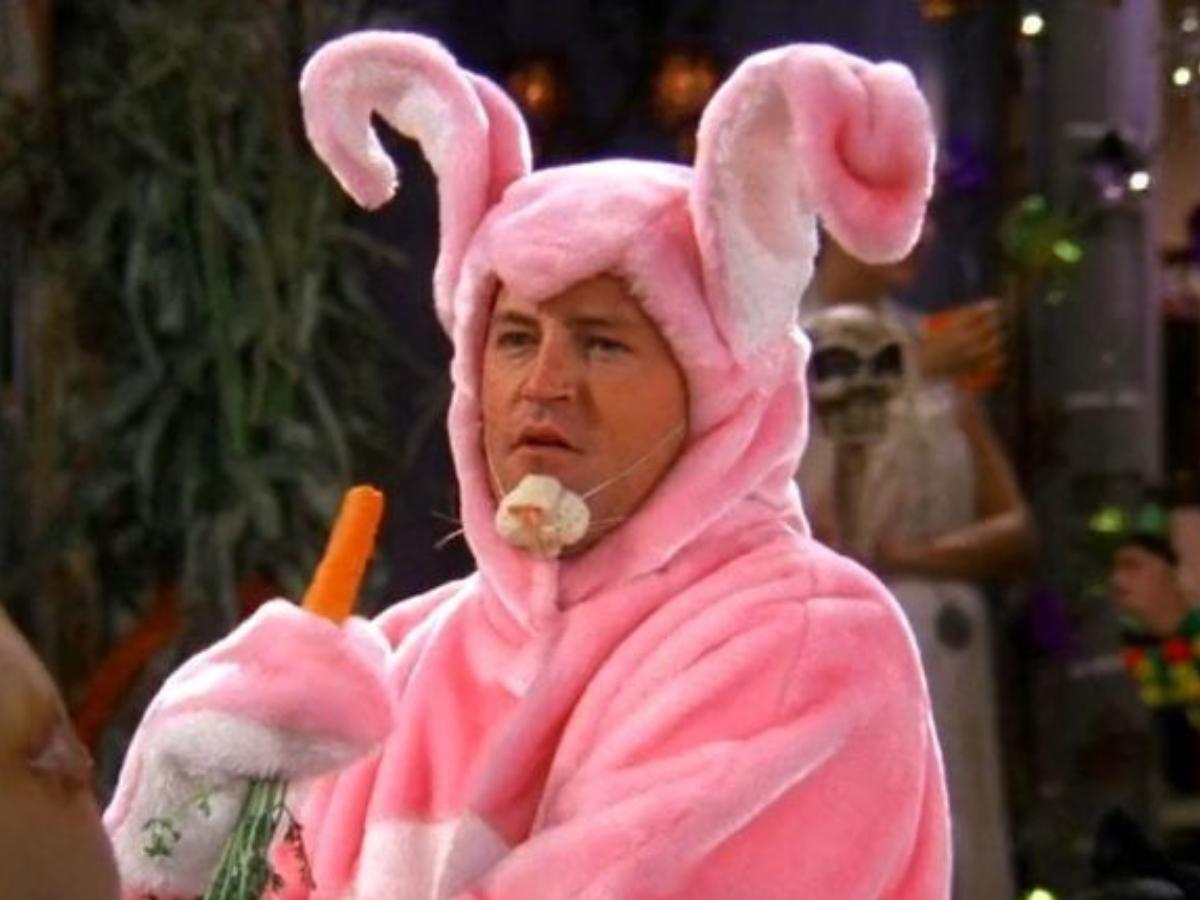 For the Halloween party, Monica forced Chandler to wear this pink bunny suit because his favorite book was "The Velveteen Rabbit". However, Chandler hilariously pointed out that the rabbit in the book was rabbit was brown and white. Even though it was an epic fail for Chandler, it would make a perfect costume to enjoy a FREINDS theme Halloween party.
4) Monica's Catwoman Suit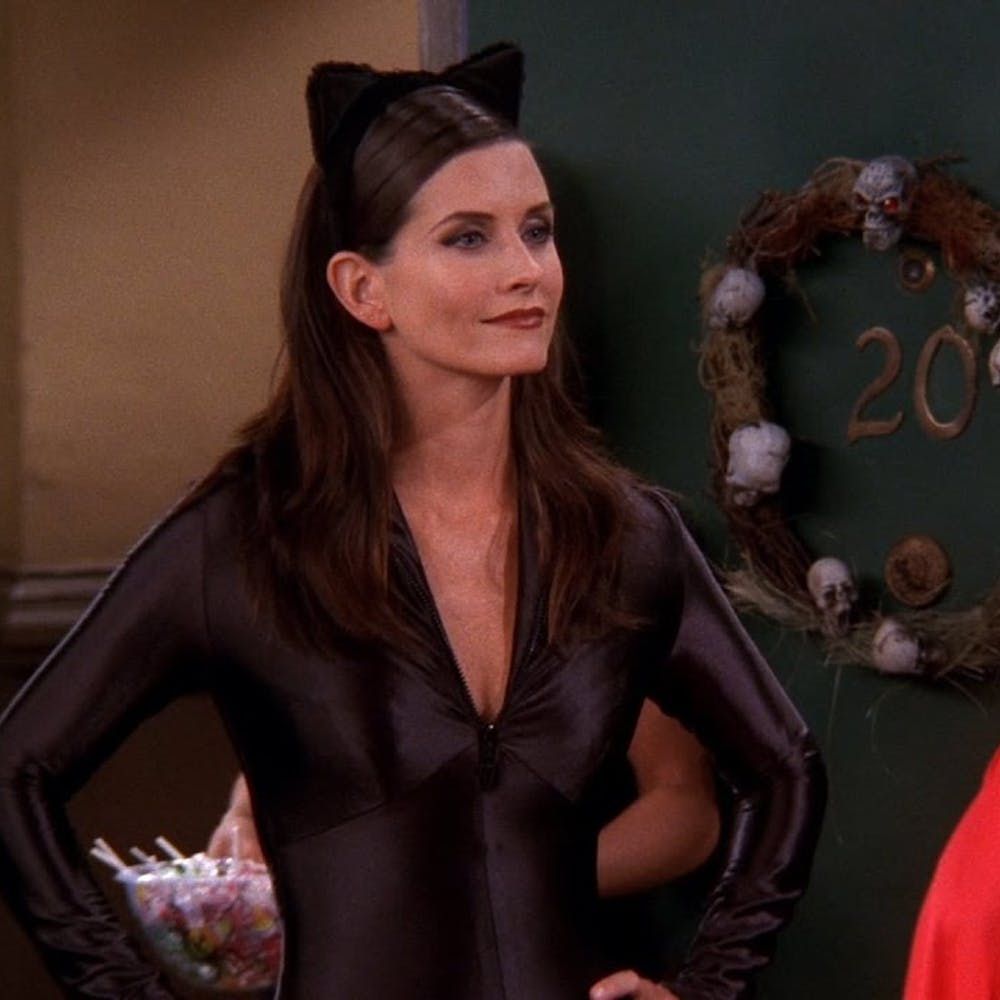 Do you remember what Monica wore in the show at the Halloween party? Yes, you guessed it right. It was a costume of a Catwoman. As a host of the party, she was quite fierce. Not just that, she was also ready to fight the Supergirl in her Catwoman suit. And, Halloween is the place where you get as much fierce as you want. So, this Halloween rock with this Monica's Catwoman suit.
5) FRIENDS Halloween T-shirt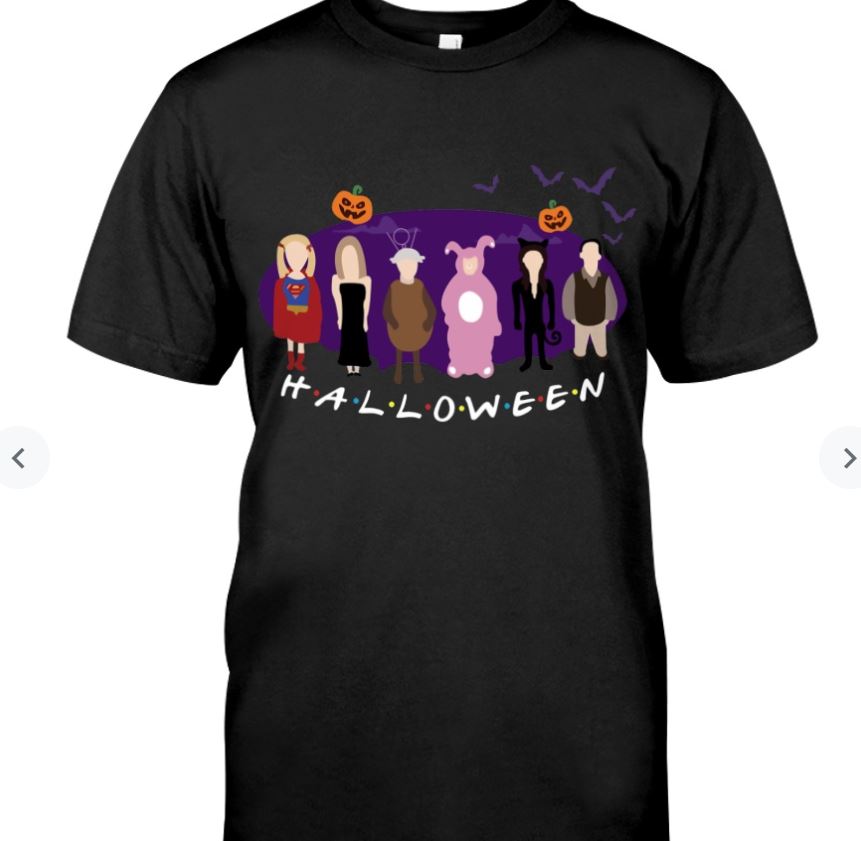 If you love FRIENDS and can't decide which character's costume you want to wear, then this T-shirt is perfect for you. You can buy this simple T-shirt online with all the character's costumes in it. You will surely rock the party with this FRIENDS-themed T-shirt and can perfectly blend into the Halloween party. And this T-shirt can be a great ice breaker if you find some really beautiful FRIENDS fans.
To Buy This Tshirt click here: FRIENDS Halloween Tshirt Purchase Link 
6) Costume From The Episode "The One with All the Wedding Dresses"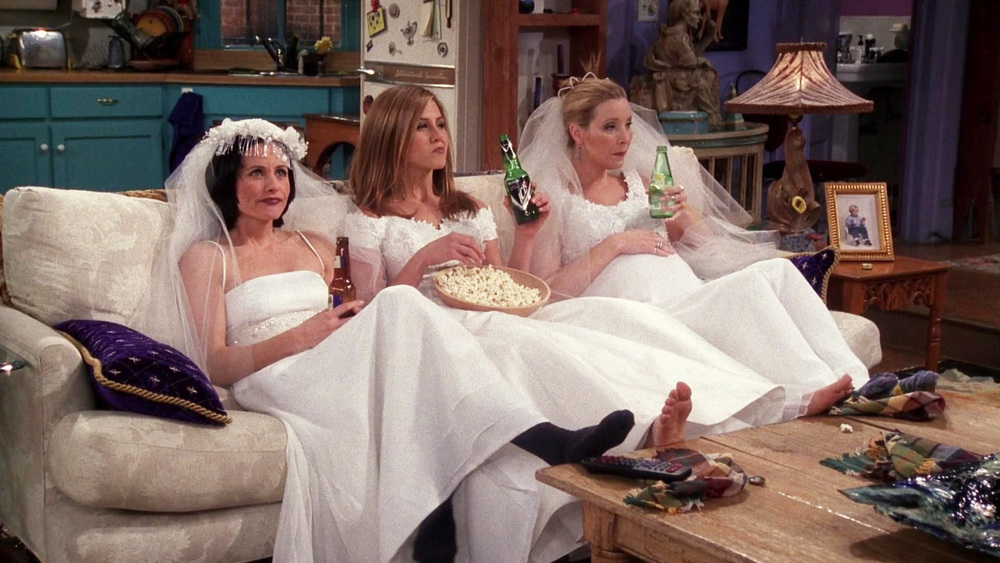 This group costume is simple to throw together if you want to do something with just the gal pals. It will definitely result in Instagram post-worthy photos. Also, this should be the perfect costume if you're looking to scare off your current boyfriend. So, just go on with it and start scaring people this Halloween.
7) Joey's Costume In "The One Where No One's Ready"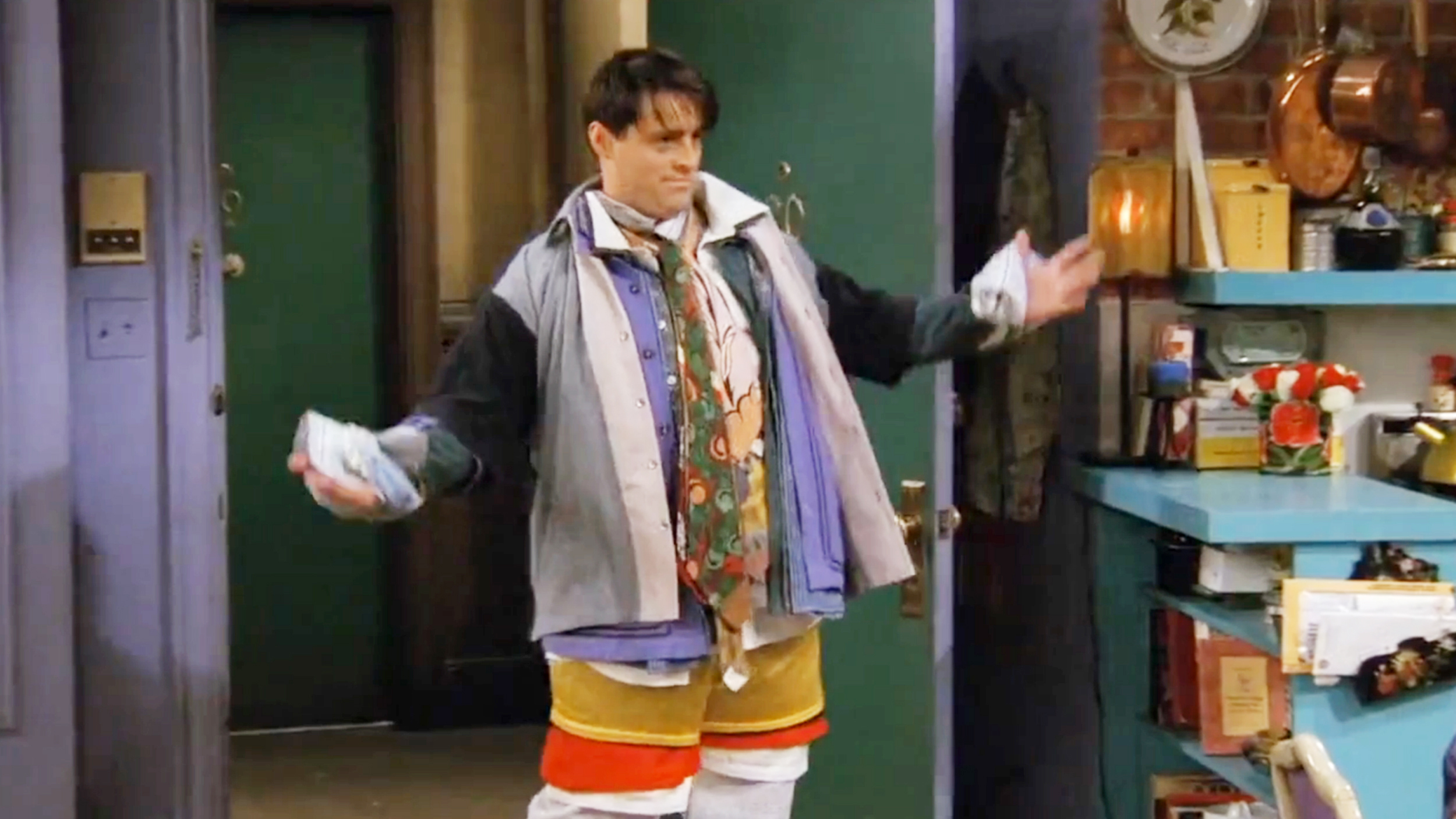 Why go normal this Halloween? Try to make it funny, clever, eye-catching, and unusual this year for your party. And you can definitely do it by pulling off the costume of Joey Tribbiani from the episode "The One Where No One's Ready". You can easily throw pants, a sweater, and Days of Our Lives script to go to this party. However, if you're a serious costume connoisseur, then you should surely go with the costume of Joey Tribbiani on "The One Where No One's Ready". P.S. Do not actually wear your roommate's underwear.
8) Halloween Themed FRIENDS Hoodie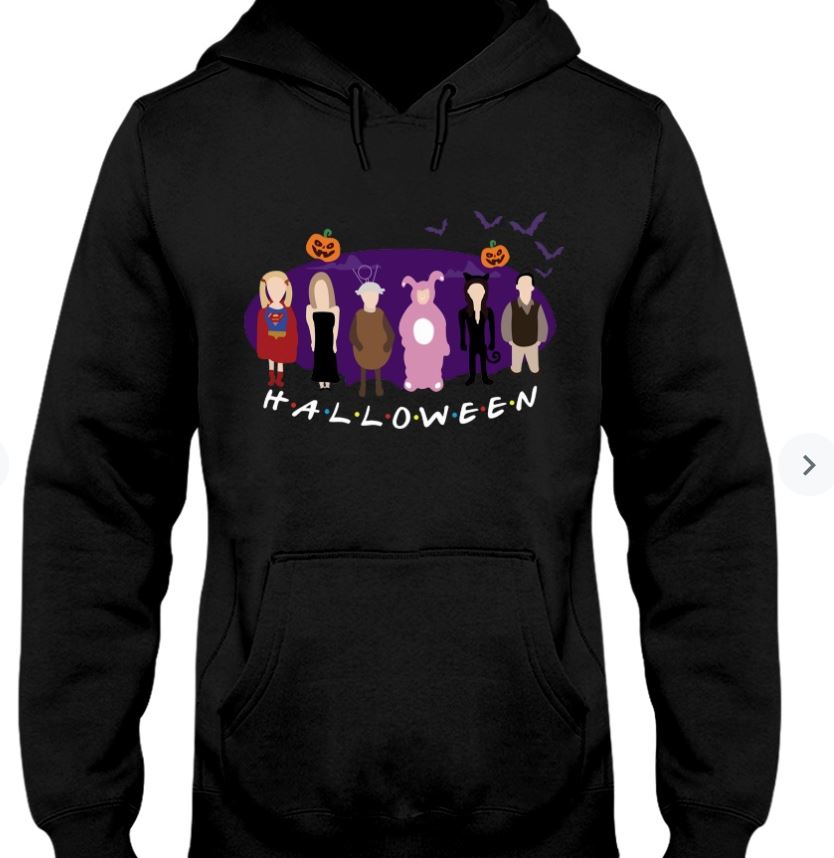 The hoodie is almost everybody's love. And what can be better if we get to wear it even at a party, that too Halloween party. If you are organizing or going into a FRIENDS-style party, then this Halloween-themed FRIENDS hoodie is the best costume for you. Also, it will be a quick fix for you if you are getting late for the party or forgot to buy another FRIENDS Halloween costume.
FRIENDS Halloween Hoodie Purchase Link: Click Here To Buy It Now!
9) Ross's Famous Costumes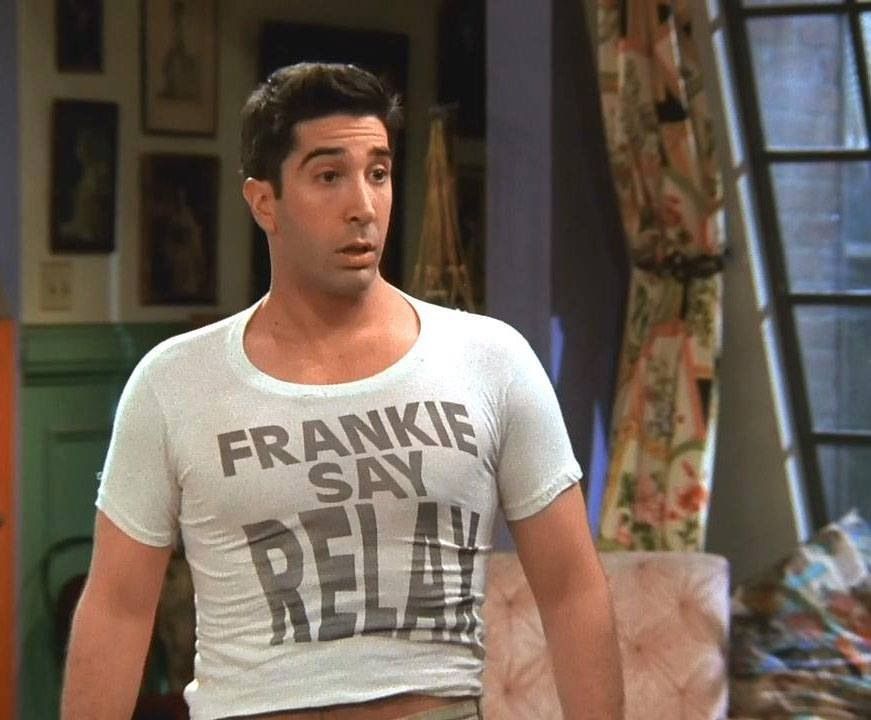 When it comes to your Ross's costume, whip up a batch of fajitas because everything is fine. You can steal inspiration from Ross's two most memorable outfits. Those costumes include the Rachel/Ross breakup shirt and the infamous red sweater. You can finish it off with a dinosaur watch and some slacks. With these costumes, this might be your most memorable Halloween party.
10) FRIENDS Halloween Poster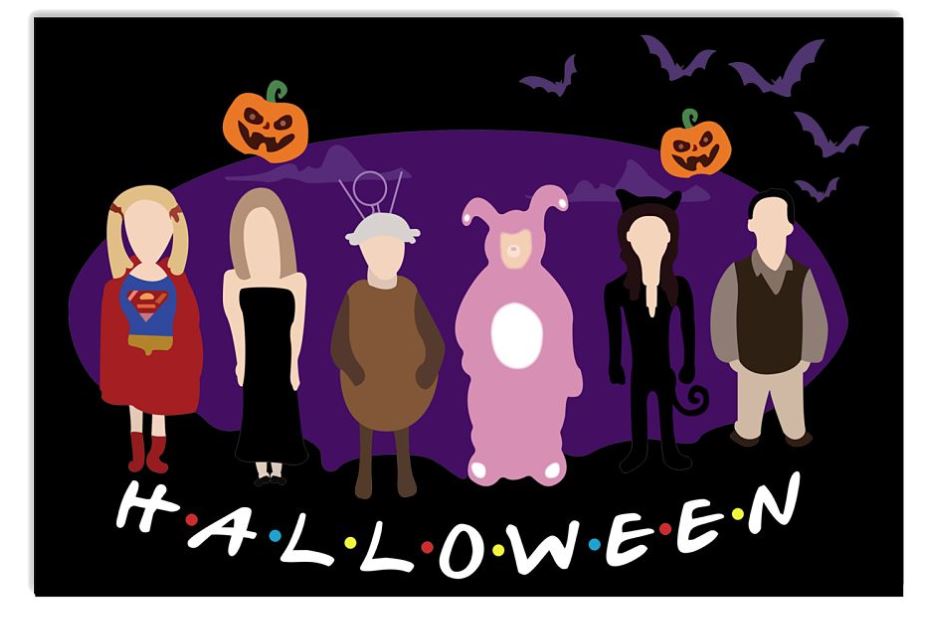 If you are too tired to organize a Halloween party, but still want to get the vibe of it, that too with your favorite FRIENDS characters, then this FRIENDS Halloween poster is just perfect for you. You can just paste it on your wall or hang it like a banner in the middle of your house and you are all done for the party. This will give you the perfect vibe of FRIENDS style Halloween party and will make it memorable for you as well.
You Can Buy This Poster Here: Click To Buy FRIENDS Halloween Poster
We've pulled out together these easy FRIENDS Halloween costume looks with items you can order now. These FRIENDS costumes will surely steal the show. So, buy these amazing Halloween costumes now.